Nagaland Innovation Expo (NIE) 2019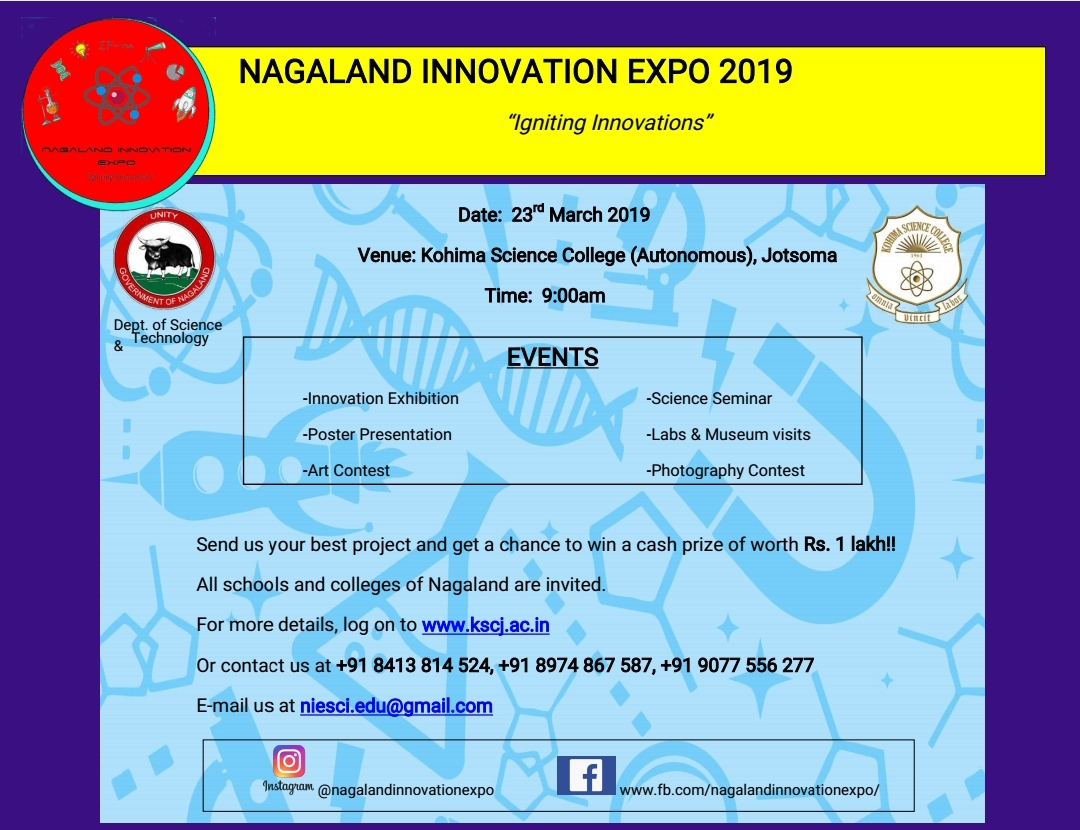 Nagaland Innovation Expo (NIE) 2019
                Innovation is the genesis of modern and progressive society. The prosperity of a country/society depends on the innovators, scientists, technologist and thinkers. Keeping this in mind, we intend to organize a state level Science & Technology expo for young minds. The main objective of the expo is to promote student's innovation to the scientific world. In this expo we invite students of Nagaland to come forward and get a chance to showcase their original work of innovation in the field of Science & Technology.
What's in it for me?
Nagaland innovation Expo has been initiated to bring light to the science & technological advancements made by the students of the state. This year NIE is filled with more exciting Science activities and more events. NIE will provide unique opportunity for the students to visit Kohima Science College. During this event, students can visit Science Laboratories, Departmental Museums and learn more about scientific tools and its implements; also, they get a chance to interact with esteemed professors of KSCJ.
This year NIE will witness two main events Innovation Exhibition which is open to students of any classes and Science Seminar which is only for students belonging to class 8-12. There will be other events like Poster presentation, Art contest and Photography competition.
The winners will take home cash prize worth ₹1 lakh along with certificates, trophies and medals.
How to Participate?
NIE is for students belonging to Nagaland State only. The students cannot participate in more than one event. For participation all you need to do is submit a write-up about your project including a short video (2min max) explaining about your project and send it through Email This email address is being protected from spambots. You need JavaScript enabled to view it. or What's app no. +91 - 8413 814 524. The projects will be evaluated, and Top 20 teams for innovation exhibition and top 10 teams for Science seminar will be selected. The selected teams will be contacted by the team.
Important Information
Accommodation won't be provided for the participants. However, TA will be given to all the Top 30 teams on submitting the traveling tickets.
Each participant must bring an institutional ID card.
1. Innovation exhibition.
a. Students can consist of individual or team consisting of max. 2 students only.
b. The innovation has to be working and beneficial to the society.
c. The project has to be submitted to the organizing team for screening round on or before 9th March 2019. No projects will be accepted thereafter. 
d. A student can submit only one project; there can be as many teams from one institution. 
2. Science Seminar.
a. The participation is limited to students belonging to class 8-12 only.
b. A team should comprise of only one student.
c. The student can choose any topic related to (STEM) Science, Technology, Engineering & Mathematics.
d. The project must be original to the student. If any teacher is found involved the team will be disqualified.
e. The selected team gets 10 mins for presentation and 3 mins for question round.
f.  The presentation has to be in power point (if not possible kindly inform the organizing team ASAP).
Contact Us:
Name

Contact No.

Zenwang Konyak
(Convener NIE 2019)

+ 91 8837285980

Ketouneikho Yavio
(Co-Convener NIE 2019)

+91 8794867587

Palavi Singh
(Co-Convener NIE 2019)

+91 9077556277
Sponsored by:
Dept. of Science & Technology, Govt. of Nagaland
In Association with:
Kohima Science College, Jotsoma